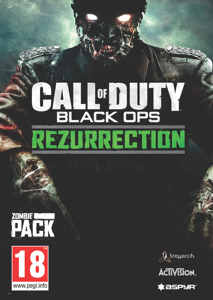 Produits
Call of Duty: Black Ops Rezurrection Content Pack (électronique): 11,99 Euro
Call of Duty: Modern Warfare 2 Resurgence Pack (électronique): 11,95 Euro
Call of Duty: Modern Warfare 2 Stimulus Package (électronique): 11,95 Euro
Call of Duty: Modern Warfare 3 Collection 1 (électronique): 11,95 Euro
Call of Duty: Modern Warfare 3 Collection 2 (électronique): 11,95 Euro
Call of Duty: Modern Warfare 3 Collection 3 (électronique): 11,95 Euro
Call of Duty: Modern Warfare 3 Collection 4 (électronique): 11,95 Euro
Call of Duty 4 (électronique): 15,50 Euro (15,99 Euro)
Call of Duty 2 (boîte): 7,99 Euro (15,99 Euro)
Call of Duty Deluxe (électronique): 15,50 Euro (15,99 Euro)
Call of Duty 2 (électronique): 15,50 Euro (15,99 Euro)
Call of Duty: Modern Warfare 2 (électronique): 17,95 Euro
Call of Duty: Black Ops Annihilation & Escalation Content Pack (électronique): 19,99 Euro
Call of Duty 4: Modern Warfare (boîte): 9,99 Euro (23,99 Euro)
Call of Duty: Black Ops (électronique): 34,99 Euro
Call of Duty: Modern Warfare 3 (électronique): 36,95 Euro
Call of Duty: Black Ops (boîte): 39,99 Euro

Configuration requise :
Mac OS X 10.7
2.4GHz Intel Mac Core Duo
15GO espace disque
4096MO RAM
Radeon HD3870
Attention: Toutes les cartes graphiques NVIDIA, et notamment celles inclues dans les MacBook Pro les plus récents (Nvidia 650M) ne sont PAS COMPATIBLES ! Cliquez ici pour plus d'informations: http://support.aspyr.com
Cartes graphiques supportées: ATI Radeon HD 3870, HD 4670, HD 4850, HD 5670, HD 5750, HD 5770, HD 5870, HD 6490, HD 6750
Attention: Nous ne recommandons pas de jouer à Call of Duty: Black Ops avec l'un des chipsets graphiques suivants qui ne sont pas bien supportées: HD3000 (2011 Mac Mini, 2011 MacBook Air, 2011 13" MacBook Pro) HD4000 (2012 13" MacBook Pro), ATI Radeon HD 2000 series, HD 4670, HD6630M, NVIDIA 8000 & 9000 series, GT100 series, 320M, 330M, Intel Integrated GMA950, x3100
Attention: Une connection internet est requise pour les modes multi-joueurs et zombies
Attention: Seul les Apple Intel Chipsets sont supportés. Les processeurs PC (G4 et G5) ne sont pas supportés
Attention: ce jeu n'est pas supporté sur les volumes formatés en Mac OS étendus (sensibilité à la casse)


Call of Duty: Black Ops Rezurrection Content Pack
Décollez pour vous une expérience épique contre des zombies !
La vieille école zombie revient en force en vous aspirant à travers le sas du Moon, où armés de nouveaux atouts et d'un arsenal d'armes de l'espace, nos héros doivent combattre des astronautes morts-vivants dans une gravité fluctuante et découvrir les conspirations initiées en 1943.

Découvrez les quatre cartes ressuscitées qui ont lancé le phénomène zombie : "Nacht der Üntoten," "Verrückt," "Shi No Numa" et "Der Riese."
Fonctionnalités :
Tous les nouveaux niveau Moon
Quatre niveaux de tradition Zombie re-masterisés: Nacht der Üntoten, Verrückt, Shi No Numa et Der Riese, l'usine zombie là où tout a commencé.
De nouvelles bandes-son de zombie, dont trois pistes inédites !
Un nouveau thème Zombies Moon
© 2010-2012 Activision Publishing, Inc. ACTIVISION, CALL OF DUTY and CALL OF DUTY BLACK OPS are trademarks of Activision Publishing, Inc. The ratings icon is a registered trademark of the Entertainment Software Association. This product contains software technology licensed from Id Software ("Id Technology"). Id Technology ©1999-2012 Id Software, Inc. Published and distributed by Aspyr Media, Inc. "Aspyr" and the Aspyr "star" logo are federally registered trademarks of Aspyr Media, Inc. Aspyr makes no guarantees regarding the availability of online play, and may modify or discontinue online service in its discretion without notice, including for example, ceasing online service for economic reasons due to a limited number of players continuing to make use of the service over time. Mac and the Mac logo are trademarks of Apple Computer, Inc., registered in the U.S. and other countries. The ratings icon is a trademark of the
Entertainment Software Association. All other marks and trademarks are the property of their respective owners. All rights reserved.

Purchasing from our store will provide a download code redeemable through the Steam client.