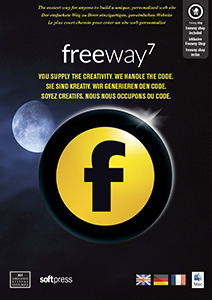 Produits
Configuration requise :
Mac OS X 10.6
Mac OS X 10.7 / Mac OS X 10.8 / Mac OS X 10.9

Freeway 7
Outil de création de sites Web intuitif, puissant, sans connaître HTML.
Create responsive websites. Visually
Creating working prototypes and gorgeous production-level websites in Freeway is simple. Just draw your content on the page like you would in your favorite image editing or page layout application, and Freeway will automatically turn it into clean, standards-based, and semantic markup that works perfectly across all browsers and platforms.



Print history; Web present
Freeway is completely focused on web design, but its past lies in page layout and print design. It does exactly what you need it to do as a web designer, in precisely the way you know how to do it as a traditional designer.

Not just for websites
You don't have to stop at websites. You can just as easily create stunning email newsletters that work with all major email clients and providers, presentations that can be opened in any web browser, and any other HTML based content.
Fonctionnalités :
Set up shop - Start selling your wares right now with built in ecommerce tools.
Intelligent & secure uploads - When you upload, Freeway only uploads what's necessary. Saving you precious time, and bandwidth.
Easily add custom code - Got some code you want to add to your site? No problem, you can add any code you want, whether it's PHP, JavaScript, CSS or just straight markup.
Site management - Freeway manages your pages, folders, colors, styles, and links. Leaving you to get on with the stuff that matters.
Master pages - Master pages, which are just like templates for the pages within your site, will stop you having to recreate common elements over and over again.
Import professional image types - You can import images from the most popular image editing applications right into Freeway, saving you a ton of time from Save for Web.
High-DPI output - Create sites that look incredible on high-DPI devices and displays with no extra effort.
Site stats - Get the scoop on how your visitors are using your site to improve funnels and increase conversions.
Hundreds of third-party plugins- Do more by extending Freeway. Download and install from hundreds of (mostly free) third-party plugins.
Custom forms - Hear from your visitors by creating completely custom contact forms, styled the way you like.
Accessibility report - Find out if your text is too light, your images are missing important alt text, or if you need to space things further apart.
Social sharing - Help spread your message. Quickly add sharing buttons from the most popular social networks to your site.
International sites - Create sites in any language, including right to left languages
Visitor comments - Easily add visitor comments to your sites to encourage engagement and improve visibility.
Site search - Add a search facility to any site made with Freeway.