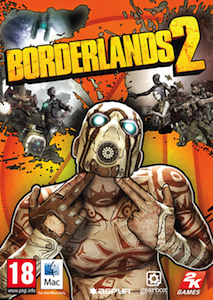 Produits
Borderlands 2: TK Baha's Bloody Harvest (électronique): 1,99 Euro
Borderlands 2: Mercenary Day (électronique): 1,99 Euro
Borderlands 2: Sir Hammerlock vs. the Son of Crawmerax (électronique): 1,99 Euro
Borderlands 2: Ultimate Vault Hunters Upgrade Pack (électronique): 3,50 Euro
Borderlands 2: Creature Slaughter Dome (électronique): 3,50 Euro
Borderlands 2: Ultimate Vault Hunter Upgrade Pack 2: Digistruct Peak Challenge (électronique): 3,50 Euro
Borderlands 2: Tiny Tina's Assault on Dragon Keep (électronique): 8,99 Euro
Borderlands 2 - Mechromancer (électronique): 8,99 Euro
Borderlands 2 - Mr. Torgue's Campaign of Carnage (électronique): 8,99 Euro
Borderlands 2 - Sir Hammerlock's Big Game Hunt (électronique): 8,99 Euro
Borderlands 2 - Captain Scarlett and her Pirate's Booty (électronique): 8,99 Euro
Borderlands 2: Psycho Pack (électronique): 8,99 Euro
Borderlands: The Pre-Sequel Handsome Jack Pack (électronique): 8,95 Euro
Borderlands: The Pre-Sequel UVHUP & The Holodome Onslaught (électronique): 8,95 Euro
Borderlands: The Pre-Sequel Lady Hammerlock the Baroness (électronique): 8,95 Euro
Borderlands: The Pre-Sequel: Claptastic Voyage und Ultimate Vault Hunter Upgrade Pack 2 (électronique): 9,95 Euro
Borderlands 2 (électronique): 17,99 Euro
Borderlands 2 Season Pass (électronique): 23,99 Euro
Borderlands: The Pre-Sequel Season Pass (électronique): 23,99 Euro
Borderlands : Édition Game of the Year (boîte): 24,99 Euro
Borderlands 2: Game of the Year Edition (électronique): 39,99 Euro
Borderlands: The Pre-Sequel (électronique): 49,99 Euro

Configuration requise :
Mac OS X 10.7
2.2GHz Intel Mac Core Duo
15GO espace disque
4096MO RAM
GeForce 8800/Radeon HD3870
Supported Video Cards: NVIDIA GeForce® 8800, GT 120, 320M, 330M, 650M, ATI Radeon HD 3870, HD 4670, HD 4850, HD 5670, HD 5750, HD 5770, HD 5870, HD 6630, HD 6490, HD 6750, HD 6770, HD 6970 Intel HD Graphics 3000, 4000
Gamepad support: Borderlands 2 supports the Xbox 360 wired gamepad only.
Other Requirements: Initial installation requires one-time Internet connection for Steam authentication; software installations required (included with the game)
include Steam Client.
Internet Connection and acceptance of Steam™ Subscriber Agreement required for activation. See www.steampowered.com/agreement for details.
NOTICE: The following video chipsets are unsupported for Borderlands 2: ATI RADEON HD 2000 series. NVIDIA 8600m, NVIDIA 9400m, 9600m
Borderlands 2
Une nouvelle référence du jeu de tir débarque
Incarnez l'un des 4 chasseurs d'Arche et affrontez un gigantesque monde de créatures et de sociopathes, sans oublier le diabolique Beau Jack. Faites-vous de nouveaux amis, armez-les jusqu'aux dents et combattez ensemble à 4 en coopération ou en écran scindé

Borderlands 2 raconte l'histoire de quatre nouveaux chasseurs d'Arche qui combattent pour libérer Pandore du joug du Beau Jack, le brillant, charismatique et parfaitement crapuleux directeur d'Hyperion Corporation.
Les joueurs se battront aux quatre coins de Pandore pour tenter d'empêcher Jack de réveiller une ancienne entité extraterrestre maléfique appelée "le Guerrier". Leur aventure les mettra en contact avec d'anciennes connaissances du premier jeu, parmi lesquelles ils reconnaîtront les quatre chasseurs d'Arche originaux : Roland, Lilith, Brick et Mordecaï. Avec leur aide et celle de personnages inédits, ils devront vaincre Jack, détruire le Guerrier et sauver Pandore.

Fonctionnalités :
All-New Characters and Classes: Choose from all new characters and classes including the Gunzerker, who can dual-wield any two weapons in the game. Dual machine guns? Cool. Dual rocket launchers? Of course! Dual Sniper Rifles? Sure, if that's your thing! More tactical perhaps? There are multiple classes to choose from!
Play Online with Friends: Share your adventures with friends on both Mac and PC through seamless system enabling you to drop in and drop out of campaign without ever having to restart the game.
World Connected Story: Left for dead in the frozen tundra of Pandora, begin your quest of revenge and redemption as the story drives you closer to the Hyperion Corporation and its evil founder, Handsome Jack.
New Badass Gun System: Millions upon millions of possible weapons means tons of new and innovative ways to engage foes on Pandora. Fire, electricity, corrosive acid, and more will all be a your disposal.
87 Bazillion...Everything: It's not just guns on Pandora, you will lust after procedurally generated shields,grenades, alien artifacts, class mods and much, much more.
Brand new environments: From the arctic tundra, through the dangerous grasslands, past the mysterious corrosive caverns to beyond, discover more of the unpredictable world of Pandora a every turn!
Brand new enemies: Hulking, gorilla-like Bullymongs, vicious predatory Stalkers and the Hyperion mechanical army, run by Handsome Jack, are just some of the new enemies you will face.