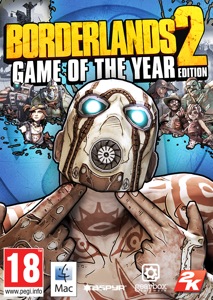 Produits
Borderlands 2: TK Baha's Bloody Harvest (électronique): 1,99 Euro
Borderlands 2: Mercenary Day (électronique): 1,99 Euro
Borderlands 2: Sir Hammerlock vs. the Son of Crawmerax (électronique): 1,99 Euro
Borderlands 2: Ultimate Vault Hunters Upgrade Pack (électronique): 3,50 Euro
Borderlands 2: Creature Slaughter Dome (électronique): 3,50 Euro
Borderlands 2: Ultimate Vault Hunter Upgrade Pack 2: Digistruct Peak Challenge (électronique): 3,50 Euro
Borderlands 2: Tiny Tina's Assault on Dragon Keep (électronique): 8,99 Euro
Borderlands 2 - Mechromancer (électronique): 8,99 Euro
Borderlands 2 - Mr. Torgue's Campaign of Carnage (électronique): 8,99 Euro
Borderlands 2 - Sir Hammerlock's Big Game Hunt (électronique): 8,99 Euro
Borderlands 2 - Captain Scarlett and her Pirate's Booty (électronique): 8,99 Euro
Borderlands 2: Psycho Pack (électronique): 8,99 Euro
Borderlands: The Pre-Sequel Handsome Jack Pack (électronique): 8,95 Euro
Borderlands: The Pre-Sequel UVHUP & The Holodome Onslaught (électronique): 8,95 Euro
Borderlands: The Pre-Sequel Lady Hammerlock the Baroness (électronique): 8,95 Euro
Borderlands: The Pre-Sequel: Claptastic Voyage und Ultimate Vault Hunter Upgrade Pack 2 (électronique): 9,95 Euro
Borderlands 2 (électronique): 17,99 Euro
Borderlands 2 Season Pass (électronique): 23,99 Euro
Borderlands: The Pre-Sequel Season Pass (électronique): 23,99 Euro
Borderlands : Édition Game of the Year (boîte): 24,99 Euro
Borderlands 2: Game of the Year Edition (électronique): 39,99 Euro
Borderlands: The Pre-Sequel (électronique): 49,99 Euro

Configuration requise :
Mac OS X 10.7
Mac OS X 10.8
2.2GHz Intel Mac Core Duo
12GO espace disque
4096MO RAM
GeForce 8800/Radeon HD2600 256MO VRAM
Initial installation requires one-time Internet connection for Steam authentication; software installations required (included with the game)
include Steam Client.
Internet Connection and acceptance of Steam™ Subscriber Agreement required for activation. See www.steampowered.com/agreement for details.
NOTICE: The following video chipsets are unsupported for Borderlands 2: ATI RADEON HD 2000 series. NVIDIA 8600m, NVIDIA 9400m, 9600m
Borderlands 2: Game of the Year Edition
1 Award winning game crammed with TONS of additional content
Borderlands 2 Game of the Year Edition offers more value than ever before -- over $100 of content for just $59.99 - and includes:

- Award winning title, Borderlands 2
- 4 Add-On Content Campaigns
- Captain Scarlett and her Pirate's Booty
- Mr. Torgue's Campaign of Carnage
- Sir Hammerlock's Big Game Hunt
- Tiny Tina's Assault on Dragon Keep
- 2 New Playable Characters:
- Gaige, the Mechromancer
- Krieg, the Psycho
- First level cap increase
- Plus new battle arenas, heads and skins, golden keys and more!