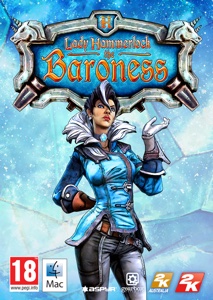 Produits
Borderlands 2: TK Baha's Bloody Harvest (électronique): 1,99 Euro
Borderlands 2: Mercenary Day (électronique): 1,99 Euro
Borderlands 2: Sir Hammerlock vs. the Son of Crawmerax (électronique): 1,99 Euro
Borderlands 2: Ultimate Vault Hunters Upgrade Pack (électronique): 3,50 Euro
Borderlands 2: Creature Slaughter Dome (électronique): 3,50 Euro
Borderlands 2: Ultimate Vault Hunter Upgrade Pack 2: Digistruct Peak Challenge (électronique): 3,50 Euro
Borderlands 2: Tiny Tina's Assault on Dragon Keep (électronique): 8,99 Euro
Borderlands 2 - Mechromancer (électronique): 8,99 Euro
Borderlands 2 - Mr. Torgue's Campaign of Carnage (électronique): 8,99 Euro
Borderlands 2 - Sir Hammerlock's Big Game Hunt (électronique): 8,99 Euro
Borderlands 2 - Captain Scarlett and her Pirate's Booty (électronique): 8,99 Euro
Borderlands 2: Psycho Pack (électronique): 8,99 Euro
Borderlands: The Pre-Sequel Handsome Jack Pack (électronique): 8,95 Euro
Borderlands: The Pre-Sequel UVHUP & The Holodome Onslaught (électronique): 8,95 Euro
Borderlands: The Pre-Sequel Lady Hammerlock the Baroness (électronique): 8,95 Euro
Borderlands: The Pre-Sequel: Claptastic Voyage und Ultimate Vault Hunter Upgrade Pack 2 (électronique): 9,95 Euro
Borderlands 2 (électronique): 17,99 Euro
Borderlands 2 Season Pass (électronique): 23,99 Euro
Borderlands: The Pre-Sequel Season Pass (électronique): 23,99 Euro
Borderlands : Édition Game of the Year (boîte): 24,99 Euro
Borderlands 2: Game of the Year Edition (électronique): 39,99 Euro
Borderlands: The Pre-Sequel (électronique): 49,99 Euro

Configuration requise :
Mac OS X 10.9
Mac OS X 10.10
2.2GHz Intel Mac Core 2 Duo
13GO espace disque
GeForce 8800/Radeon HD2600 256MO VRAM
Prise en charge de la manette : Borderlands: The Pre-Sequel prend en charge à la fois les manettes sans fil Playstation 4 Dualshock 4 et Playstation 3 Dualshock 3, la manette Xbox 360 pour Windows (filaire) et la manette Xbox One (filaire).
REMARQUE : la version complète de Borderlands: The Pre-sequel doit déjà être installée sur votre Mac via Steam.  
REMARQUE : Le pack Lady Hammerlock n'est pas compatible avec la version de Borderlands: The Pre-Sequel présent sur l'App Store.
Autres spécifications : connexion Internet nécessaire uniquement lors de la première installation, pour l'authentification sur Steam ; installation de logiciels nécessaire (fournis avec le jeu) dont le client Steam. Connexion Internet et acceptation de l'Accord de souscription Steam™ nécessaires pour l'activation. Voir www.steampowered.com/agreement pour plus de détails
REMARQUE : Les chipsets vidéo suivants ne sont pas compatibles avec Borderlands: The Pre-Sequel : ATI RADEON X1000 Series, ATI RADEON HD 2400, NVIDIA 8600m, NVIDIA 9400m, 9600m, Intel Integrated GMA 950, Intel Integrated x3100
REMARQUE : ce jeu n'est pas compatible avec les volumes au format Mac OS étendu (sensible à la casse).
Borderlands: The Pre-Sequel Lady Hammerlock the Baroness
Une dame plus froide que la glace elle-même!
Voici la soeur de Sir Hammerlock, la Baronne Aurelia Hammerlock ! Personne n'est aussi glaciale qu'elle, figurativement et littéralement compte tenu de sa compétence « Plus-froide-que-glace », capable d'infliger des tonnes de dégâts de givre aux vilains d'Elpis. Elle peut aussi transformer n'importe quel compagnon de co-op en un parfait serviteur grâce à son arbre de talents « Contrat d'aristocratie ». Rien ne résistera à cette aristocrate au coeur de glace !