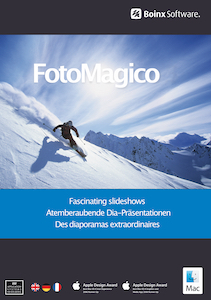 Produits
FotoMagico 6 - One-Year-Subscription (électronique) 1M: 8,00 Euro
FotoMagico 6 - One-Year-Subscription (électronique): 95,89 Euro

Configuration requise :
FotoMagico 6 - One-Year-Subscription
Diaporama haute résolution de qualité pour Mac. One-Year-Subscription
Impress with the slideshow of your life

FotoMagico® 6
A slideshow tells more than a thousand words.
FotoMagico is designed to unleash your creativity without distracting you.

Got an idea for a slideshow?

Drag images and movies from your library into FotoMagico's storyboard. If you change your mind about the sequence order, drag your media files into the arrangement you want.

Want to add a transition?
Click the options icon, select your favorite transition from the drop down menu. You can create an impressive slideshow in a few clicks.

Share your stories
Present your slideshow online, offline or even on your iPad. Create unforgettable moments and impress with animation of photos, videos, transition and sounds.

Let's talk tech
Create you project in the resolution you want HD, 4k or even 8k ? FotoMagico can handle this and only the power of your current computer hardware limits your dream resolution.

Add-ons? All-inclusive!
As a photographer, you want to make great pictures that tug at your audience's emotions. FotoMagico allows you to flow those pictures freely into a slideshow and to mix them with movies to impress your audience. Sound is just a drag and drop away, too.

FotoMagico gives you sophisticated shows with sound and high-end transitions in minutes. Like the Mac and iPad itself, it never stands in your way.

Storyboard mode
Start your project with arranging images, video and music clips in the storyboard mode. The story snippets can inspire your visual storytelling and add some placeholder images for you.

Timeline mode
Only with precise control over transitions, effects and animations your slideshow will stand out and shine. In timeline mode it's easy to fine-tune with german precision every aspect of your slideshow.

Animation
Drive the attention of your audience by animating still images. Zooming effects can make a difference when used with awareness. Precise control over animations make FotoMagico the Swiss army knife for creating engaging slideshows.

Layers
Combine up to 6 layers of photos, videos or titles for limitless creative freedom. Use masks to make layers partly transparent and work creatively with multiple files.

Instantly present
Without render-time you can instantly play your slideshow in full resolution. This takes away any stress associated with last-minutes changes and gives you a great real-time experience.

Snippets(Add-ons)
Snippets are add-ons for FotoMagico. The subscription contains all former and upcoming snippets. There are titles, frames, music, story snippets which enriches FotoMagico's functions and assets.

Media browser
FotoMagico's media browser automatically displays images and videos clips from your Apple Photos library and provides access to local storage, iCloud, Google Drive, Dropbox and other data providers.

Optimize images
Apply high quality effects like color correction, sepia, vignette or black and white to give your photos the little extra. Adjust the images to match colors and to give your slideshow a modern look.

Video
Simply work with videos in the same way as still photos. FotoMagico takes care of any adjustment needed to match the slideshow's settings.

Music
Insert music from you music library or download the royalty-free music snippets.

Audio markers
Improve your slideshow by synchronising visual and audio transitions. Setting transitions at the right time helps to support your story emotionally. Audio Markers help to cut on the beat of the music. The Audio Marker Assistant even detects our music tracks and adds markers according to the beat.

Music snippets
Download additional music snippets for free and save hours hunting for the right tune. The included music snippets cover all kinds of moods. Every track comes pre-configured with Audio Markers to speed up your visual transitions to the beat of the music.

iCloud Sync
Store your slideshows on your iCloud Drive to keep them synchronized between iPad and Mac.