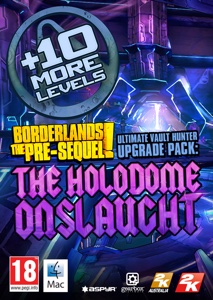 Produits
Borderlands 2: TK Baha's Bloody Harvest (électronique): 1,99 Euro
Borderlands 2: Mercenary Day (électronique): 1,99 Euro
Borderlands 2: Sir Hammerlock vs. the Son of Crawmerax (électronique): 1,99 Euro
Borderlands 2: Ultimate Vault Hunters Upgrade Pack (électronique): 3,50 Euro
Borderlands 2: Creature Slaughter Dome (électronique): 3,50 Euro
Borderlands 2: Ultimate Vault Hunter Upgrade Pack 2: Digistruct Peak Challenge (électronique): 3,50 Euro
Borderlands 2: Tiny Tina's Assault on Dragon Keep (électronique): 8,99 Euro
Borderlands 2 - Mechromancer (électronique): 8,99 Euro
Borderlands 2 - Mr. Torgue's Campaign of Carnage (électronique): 8,99 Euro
Borderlands 2 - Sir Hammerlock's Big Game Hunt (électronique): 8,99 Euro
Borderlands 2 - Captain Scarlett and her Pirate's Booty (électronique): 8,99 Euro
Borderlands 2: Psycho Pack (électronique): 8,99 Euro
Borderlands: The Pre-Sequel Handsome Jack Pack (électronique): 8,95 Euro
Borderlands: The Pre-Sequel UVHUP & The Holodome Onslaught (électronique): 8,95 Euro
Borderlands: The Pre-Sequel Lady Hammerlock the Baroness (électronique): 8,95 Euro
Borderlands: The Pre-Sequel: Claptastic Voyage und Ultimate Vault Hunter Upgrade Pack 2 (électronique): 9,95 Euro
Borderlands 2 (électronique): 17,99 Euro
Borderlands 2 Season Pass (électronique): 23,99 Euro
Borderlands: The Pre-Sequel Season Pass (électronique): 23,99 Euro
Borderlands : Édition Game of the Year (boîte): 24,99 Euro
Borderlands 2: Game of the Year Edition (électronique): 39,99 Euro
Borderlands: The Pre-Sequel (électronique): 49,99 Euro

Configuration requise :
Borderlands: The Pre-Sequel base game required to play this content.
IS NOT compatible with the App Store version of BL: TPS

Borderlands: The Pre-Sequel UVHUP & The Holodome Onslaught
Dans cette extension dotée d'un tout nouveau contenu narratif, Axton et Gaige, Chasseurs de l'Arche, font leur retour grâce à The Holodome Onslaught, une nouvelle arène à surmonter où les joueurs affrontent des vagues successives d'ennemis et de boss redoutables ! Alors que les Chasseurs de l'Arche vétérans rejoignent le reste de l'équipe au QG des Crimson Raiders et qu'ils découvrent les récents événements, les joueurs affrontent certains des personnages les plus coriaces du jeu afin de remporter de nouvelles armes incroyables, et s'équipent de nouvelles têtes et apparences !

Ce contenu inclut également en bonus le pack Ultimate Vault Hunter Upgrade Pack, qui augmente le niveau maximum et offre à vos personnages 10 nouveaux niveaux ainsi que 10 nouvelles capacités à gagner !