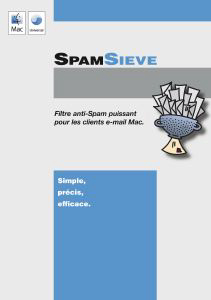 Produits
SpamSieve (Box): 26,99 Euro

Configuration requise :
1GHz Intel Mac Core Solo
16MO espace disque
128MO RAM
Apple Mail from macOS 10.13 and later (including macOS 13 Ventura).
Airmail 1.3.1 (223) and later. Versions 3.6.3 through 3.6.41 are not compatible with SpamSieve on macOS 10.14, but version 3.6.42 and later are.
GyazMail 1.2.0 (1.5.8 or later recommended).
MailMate 1.1.2 and later from Freron Software.
Mailsmith 2.3.1 and later from Stickshift Software. (By applying a workaround you can use SpamSieve with Mailsmith 2.1.5.)
Outlook from Microsoft Office 2011 (14.x) and later, including Outlook 15.x and 16.x from Office 365. Outlook needs to be running with "New Outlook" turned off, which it does not allow when running in free mode. Outlook Live and other browser-based mail are not supported, except via the Mac clients listed here.
Postbox 2.0 through 5.x from Postbox, Inc. Postbox 6 and 7 are not currently compatible. Postbox Express and the (discontinued) Mac App Store version of Postbox are not compatible.
PowerMail 4.0 and later (6.x recommended) from CTM Development. PowerMail only supports SpamSieve with POP accounts.
Actualités

24/06/2022:

SpamSieve nouvelle version 2.9.49

Application Systems annonce la disponibilité de la nouvelle version 2.9.49 de SpamSieve pour le Mac. La nouvelle version peut être téléchargée sur:
https://www.application-systems.eu/spamsieve

Les nouvelles fonctionnalités incluent:
- Added support for Apple Mail on the forthcoming macOS 12.5 and macOS 13 Ventura. We recommend updating SpamSieve before updating macOS. SpamSieve 2.9.49 should automatically update the installed version of its Apple Mail plug-in, and the plug-in should stay enabled. However, if you don't see the SpamSieve commands in Apple Mail's Message menu, be sure to choose "Install Apple Mail Plug-In" from the SpamSieve menu and to enable the plug-in.
- Made various changes to improve SpamSieve's filtering accuracy.
- Updated the Outlook Filter Mailboxes helper app to work around a problem where macOS 12.3 would report an error at launch. It also now helps you figure out if Outlook Filter Mailboxes doesn't have Automation access to control SpamSieve.
- Improved the manual.
- Worked around a macOS bug that could prevent a rules file written on macOS 12 on an M1 Mac from being properly read on macOS 10.15.
- Fixed a bug where certain Unicode character sequences in a message's address list could cause SpamSieve to hang when matching against a rule list.
- Updated the Read Me.




20/12/2021:

SpamSieve nouvelle version 2.9.47

Application Systems annonce la disponibilité de la nouvelle version 2.9.47 de SpamSieve pour le Mac. La nouvelle version peut être téléchargée sur:
https://www.application-systems.de/spamsieve

Les nouvelles fonctionnalités incluent:
- Added support for Apple Mail on the forthcoming macOS 12.1. We recommend updating SpamSieve before updating macOS. SpamSieve 2.9.47 should automatically update the installed version of its Apple Mail plug-in, and the plug-in should stay enabled. However, if you don't see the SpamSieve commands in Apple Mail's Message menu, be sure to choose "Install Apple Mail Plug-In" from the SpamSieve menu and to enable the plug-in.
- Made various changes to improve SpamSieve's filtering accuracy.
- Worked around a bug in Apple. Mail that could prevent messages trained as good from moving back to the inbox or messages (particularly POP ones) trained as spam from moving to the Junk mailbox. If you continue to see either of these problems, choose "Install Apple Mail Plug-In" from the SpamSieve menu.
- Updated the Open Window script to work around an issue on macOS 12 where some windows didn't open due to an AppleScript error.
- Improved the following sections of the manual:
- Checking the Outlook Setup
- Filtering Spam During Power Nap
- Keeping Spam Messages Out of Gmail's Archive
- Turning Off the Gmail Spam Filter
- Improved the error handling when Apple Mail reports an error determining whether a message trained as spam is already in the Junk mailbox.
- Improved the diagnostic report on macOS 12.
- SpamSieve now declares notch compatibility for the new MacBook Pros.




03/03/2021:

SpamSieve nouvelle version 2.9.43

Application Systems annonce la disponibilité de la nouvelle version 2.9.43 de SpamSieve pour le Mac. La nouvelle version peut être téléchargée sur:
https://www.application-systems.de/spamsieve

Les nouvelles fonctionnalités incluent:
- Worked around a bug in the forthcoming macOS 11.3 that could cause SpamSieve to crash at launch.
- Improved the following sections of the manual:
- If Apple Mail Is Running Slowly
- Resetting Mail's Private Plug-Ins Folder
- Security & Privacy Access
- Setting Up Apple Mail
- The "Use Growl global notification system" checkbox is now shown as disabled when Growl is not available, e.g. on Apple Silicon Macs.
- Improved SpamSieve's debug logging of messages received and processed.




12/12/2020:

SpamSieve nouvelle version 2.9.41

Application Systems annonce la disponibilité de la nouvelle version 2.9.41 de SpamSieve pour le Mac. La nouvelle version peut être téléchargée sur:
https://www.application-systems.co.uk/spamsieve

Les nouvelles fonctionnalités incluent:
- Added support for Apple Mail on the forthcoming macOS 11.1. We recommend updating SpamSieve before updating to macOS 11.1. In any case, if you don't see the SpamSieve commands in Apple Mail's Message menu, be sure to choose "Install Apple Mail Plug-In" from the SpamSieve menu and enable the plug-in.
- The Apple Mail installer is better able to detect when a new version of macOS requires a new version of SpamSieve.
- Apple Mail is faster at launching SpamSieve and more likely to find the right installed copy of it.
- Worked around a macOS 11 bug that prevented the diagnostic report from working properly on Apple Silicon Macs.
- Worked around a macOS 11 bug that could cause an Apple Mail hang when SpamSieve and Small Cubed MailSuite were both in use.
- Made various changes to try to work around a problem where Apple Mail training commands were intermittently not received on Macs with Apple Silicon.
- Improved the diagnostic report on macOS 11.
- Update the Korean localization.




13/11/2018:

SpamSieve nouvelle version 2.9.34

Application Systems annonce la disponibilité de la nouvelle version 2.9.34 de SpamSieve pour le Mac. La nouvelle version peut être téléchargée sur:
http://www.application-systems.eu/spamsieve

Les nouvelles fonctionnalités incluent:
- Made a variety of changes to work better with Apple Mail on macOS 10.14:
- SpamSieve now uses a variety of heuristics to better detect when Mail has finished launching before checking that its plug-in is enabled. This helps avoid annoying dialogs and prevents unnecessary rule deactivations if Mail takes a really long time to launch, e.g. on a slower Mac that has rebooted and is restoring all the previously open applications at once or if a utility such as iLock has halted Mail during the launch process.
- SpamSieve can now protect you from a disabled plug-in when Mail launches after SpamSieve launches, e.g. if you are using SpamSieve with multiple mail clients and so SpamSieve is not always launched as a result of Mail launching.
- SpamSieve now detects and repairs problems with Mail's preferences folder that could prevent Mail from showing the **Manage Plug-ins...** button.
- If macOS has forgotten that you gave SpamSieve Full Disk Access, SpamSieve will now detect this and remind you to grant it again.
- If SpamSieve can't install its Mail plug-in because it doesn't have Full Disk Access, it no longer suggests that you install the plug-in manually. (It is better for you to grant access and then try the automatic installer again.)
- If you've previously declined to give SpamSieve Automation access to control Mail, SpamSieve will now remind you to do this (and open System Preferences for you) when you try to train a message, instead of failing silently.
- The "Apple Mail - Remote Training" and "Apple Mail - Server Junk Mailbox" scripts, when running as standalone applications, now explain to you that they need Automation access in order to function.
- Adjusted the launch agent so that SpamSieve more reliably launches when Mail launches, and sandbox errors aren't logged to Console.
- Since version 2.9.21, SpamSieve has overridden the text color in Mail's message list in order to improve the contrast and readability for spam messages that are marked with a colored background. This now works on macOS 10.14, including with Dark Mode.
- The "AppleMailAllJunkMessagesUseBlackText" esoteric preference now switches the color for Dark Mode on macOS 10.14.
- SpamSieve now logs more information to Console and diagnostic reports to help diagnose problems with the Mail plug-in.
- The alert and manual now clarify that, if you no longer want to use SpamSieve with Mail, you can prevent SpamSieve from reminding you to enable the plug-in by uninstalling it.
- SpamSieve no longer wastes time waiting for Mail to launch when there are no rules for it to reactivate, anyway.
- Fixed an error reporting bug when activating the Mail rules.
- Fixed a bug where a fresh install on macOS 10.14 wouldn't remember that the Mail plug-in had been installed.
- "Outlook Filter Mailboxes" now shows a more helpful error message if it lacks Automation access on macOS 10.14.
- Due to changes in Airmail and macOS 10.14, Airmail versions 3.6.3 through 3.6.41 are not compatible with SpamSieve when using macOS 10.14. You should use Airmail 3.6.42 or later.
- When checking the setup for your e-mail client, the instructions now recommend verifying that Automation access has been granted.
- The "Apple Mail - Discard Spam" script reports a better error if Mail times out because there were too many messages in the trash.
- Updated the "Security & Privacy Access" section of the manual.
- The **About** window now includes a link to the privacy policy and has an updated layout.
- Updated SpamSieve's code signing for the latest Apple notarization requirements.
- Fixed a bug where training a message as spam in Apple Mail would display the **Spam** mailbox instead of moving the message if you were using the old GUI scripting workaround on macOS 10.12 or later with a non-US localization.
- Fixed a bug where SpamSieve could get confused by the presence of Fluid App instances.




28/09/2018:

SpamSieve nouvelle version 2.9.33

Application Systems annonce la disponibilité de la nouvelle version 2.9.33 de SpamSieve pour le Mac. La nouvelle version peut être téléchargée sur:
http://www.application-systems.eu/spamsieve

Les nouvelles fonctionnalités incluent:
https://c-command.com/blog/2018/09/21/spamsieve-2-9-33/




25/04/2018:

SpamSieve nouvelle version 2.9.30

Application Systems annonce la disponibilité de la nouvelle version 2.9.30 de SpamSieve pour le Mac. La nouvelle version peut être téléchargée sur:
http://www.application-systems.eu/spamsieve

Les nouvelles fonctionnalités incluent:
- SpamSieve is now 64-bit only and requires macOS 10.7 or later.
- Made various changes to improve SpamSieve's filtering accuracy.
- You can now click the Outlook - Filter Mailboxes icon in the Dock to make it filter the new inbox messages immediately instead of waiting until the next scheduled check.
- The Apple Mail - Remote Training script now auto-creates the **TrainGood** and **TrainSpam** mailboxes for you.
- Added the Apple Mail - Block Sender script.
- Improved the following sections of the manual:
- Checking the Outlook 2016 Setup
- Only Filtering Certain Accounts
- Setting Up Apple Mail
- SpamSieve can now recover from certain types of damage to a "Rules" file by logging information about the damaged rules and modifying them so that they don't cause crashes.
- Manually installing the Apple Mail plug-in now forces creation of a new launch agent ".plist" file, even if nothing has changed, to work around a problem with it not loading.
- The Apple Mail - Remote Training, Apple Mail - SaneBox, and Apple Mail - Server Junk Mailbox scripts work around a macOS bug that reports that System Events is not running.
- **Outlook - Filter Mailboxes** now works around an Outlook bug with getting folders by name.
- Improved the error reporting when a file cannot be written.
- Fixed a bug where SpamSieve could be fooled into parsing the wrong e-mail address out of a message header (Mailsploit).
- Fixed a bug where a misleading error message would be presented if a secure connection could not be made to the software update server.
- Fixed a spurious error in diagnostic reports on macOS 10.12 and later.
- Made various code modernizations.
- Updated the German localization.




09/06/2008:

SpamSieve nouvelle version 2.7.1

ASP annonce la disponibilité de la nouvelle version 2.7.1 de SpamSieve pour le Mac. La nouvelle version peut être téléchargée sur: http://www.application-systems.de/spamsieve

Les nouvelles fonctionnalités incluent:
- Correction d'une régression de la version 2.7 où SpamSieve était lent
pour charger certains fichiers corpus volumineux sur Mac OS X 10.5.
- Contournement d'un bug dans Mac OS X 10.4 pouvant faire crasher l'application lors de l'apprentissage d'un message avec Apple Mail.
- Quelques adaptations de précisions



02/06/2008:

SpamSieve nouvelle version 2.7.0

ASP annonce la disponibilité de la nouvelle version 2.7.0 de SpamSieve pour le Mac. La nouvelle version peut être téléchargée sur: http://www.application-systems.de/spamsieve

Les nouvelles fonctionnalités incluent:
- Nécessite Mac OS X 10.4 ou plus.
- Améliorations diverses, plus particulièrement concernant les images en pièces jointes, URLs et HTML.
- Amélioration de la vitesse et utilisation mémoire.
- Plusieurs améliorations avec la largeur des colonnes et alignement des règles, ajout des couleurs alternées.
- Correction d'un problème où Apple Mail sur Mac OS X 10.5 pouvait se figer si vous sélectionniez un message comme Spam pendant le chargement de mails
- Augmentation des valeurs possibles pour les seuils de spam
- Amélioration du tri des noms de sons dans le menu pop-up.
- Correction d'un bug où SpamSieve ne démarrez pas si le dossier Microsoft User Data était remplacé par un fichier alias invalide.
- Ne montre plus l'alerte Reset Corpus/History au démarrage si vous maintenez d'autres touchez en plus de Command-Option.
- Mise à jour de la localisation en Hollandais.



23/11/2007:

SpamSieve nouvelle version 2.6.5

ASP annonce la disponibilité de la nouvelle version 2.6.5 de SpamSieve pour le Mac. La nouvelle version peut-être téléchargée sur: http://www.application-systems.fr/spamsieve

Mise à jour gratuite incluant les améliorations suivantes :
- Inclut plusieurs améliorations pour une plus grande précision.
- Ajout d'une version haute résolution de l'icône d'application.
- Ajustement de l'apparence des indicateurs du statut (., G, S) pour une meilleure visibilité dans le Dock de Leopard.
- Mis à jour des règles par défaut de la liste blanche.
- Mis à jour de la documentation pour Mac OS X 10.5.
- Mis à jour en PCRE 7.4.
- Compatibilité accrue avec les pré versions d'Entourage 2008.
- La commande «Train as Good» dans Apple Mail reconnaît désormais des boîtes aux lettres de Spam dont les noms se finissent par «Spam», et fonctionne avec les éléments supprimés sur Mac OS X 10.5.
- Contournement de changements dans Apple Mail sur Mac OS X 10.5 qui empêchaient la commande «Train as spam» de déplacer les messages.
- Correction du bug «Aide» d'Apple qui ne fonctionnait pas sous Mac OS X 10.5
- Correction d?un bug de gestion des spams HTML.
- Correction de bug de pertes des préférences de notification GROWL lors de l'utilisation de SpamSieve sous différentes localisations.
- Correction du login Console non nécessaire lors du chargement des adresses Entourage.
- Mis à jour de la localisation en Italien.
- Nécessite désormais Mac OS X 10.3 ou version supérieure.



21/08/2007:

SpamSieve mise à jour 2.6.4

Avec la version 2.6.4 de SpamSieve, C-Command ajoute des fonctionnalités et améliore les performances de son outil innovant de filtre le courrier indésirable. Il gagne en précision, notamment face aux messages comportant des pièces jointes. Sa compatibilité avec Leopard est également améliorée.