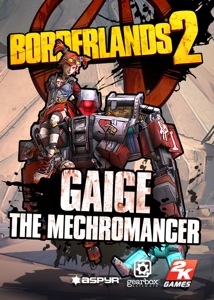 Produits
Borderlands 2: TK Baha's Bloody Harvest (électronique): 1,99 Euro
Borderlands 2: Mercenary Day (électronique): 1,99 Euro
Borderlands 2: Sir Hammerlock vs. the Son of Crawmerax (électronique): 1,99 Euro
Borderlands 2: Ultimate Vault Hunters Upgrade Pack (électronique): 3,50 Euro
Borderlands 2: Creature Slaughter Dome (électronique): 3,50 Euro
Borderlands 2: Ultimate Vault Hunter Upgrade Pack 2: Digistruct Peak Challenge (électronique): 3,50 Euro
Borderlands 2: Tiny Tina's Assault on Dragon Keep (électronique): 8,99 Euro
Borderlands 2 - Mechromancer (électronique): 8,99 Euro
Borderlands 2 - Mr. Torgue's Campaign of Carnage (électronique): 8,99 Euro
Borderlands 2 - Sir Hammerlock's Big Game Hunt (électronique): 8,99 Euro
Borderlands 2 - Captain Scarlett and her Pirate's Booty (électronique): 8,99 Euro
Borderlands 2: Psycho Pack (électronique): 8,99 Euro
Borderlands: The Pre-Sequel Handsome Jack Pack (électronique): 8,95 Euro
Borderlands: The Pre-Sequel UVHUP & The Holodome Onslaught (électronique): 8,95 Euro
Borderlands: The Pre-Sequel Lady Hammerlock the Baroness (électronique): 8,95 Euro
Borderlands: The Pre-Sequel: Claptastic Voyage und Ultimate Vault Hunter Upgrade Pack 2 (électronique): 9,95 Euro
Borderlands 2 (électronique): 17,99 Euro
Borderlands 2 Season Pass (électronique): 23,99 Euro
Borderlands: The Pre-Sequel Season Pass (électronique): 23,99 Euro
Borderlands : Édition Game of the Year (boîte): 24,99 Euro
Borderlands 2: Game of the Year Edition (électronique): 39,99 Euro
Borderlands: The Pre-Sequel (électronique): 49,99 Euro

Configuration requise :
Borderlands 2 is required to play this add-on content

Borderlands 2 - Mechromancer
A new Vault Hunter has arrived on Pandora!
This download grants the player access to Gaige, the 5th playable character in Borderlands 2 who can summon a destructive robot named Deathtrap.
Fonctionnalités :
Class:
BIO:
Wanted for creation of unauthorized technology, excessive adorability.
Special Power:
Summon Deathtrap, a giant destructive robot to fight along side Gaige.