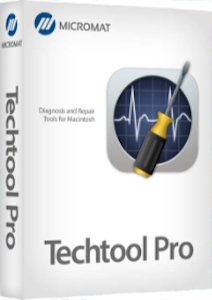 Produits
TechTool Pro 14 (électronique): 99,95 Euro

Configuration requise :
Apple Silicon and Intel-based Macs
OS X 10.11 or greater, including macOS 11 'Big Sur'
TechTool Pro 14
Hardware diagnostics, drive repair and daily maintenance for your Mac.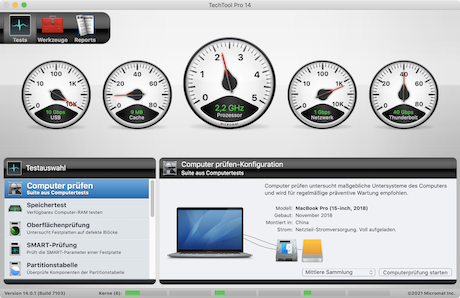 New in Techtool Pro 14
APPLE SILICON COMPATIBILITY

Techtool Pro 14 is a Universal Mac app, and runs natively on both Apple Silicon* and Intel Macs. Techtool Pro is deeply connected to your Mac's hardware, so nearly every test and tool has been updated to support Apple's latest processor technology.
VOLUME INITIALIZATION

Techtool Pro 14 can now reformat volumes connected to your Mac. Use the Volume Initialization tool to quickly reformat drives as either APFS, Mac OS Extended, or even Ex-Fat or FAT 32.
APP CHECK

Techtool Pro 14 introduces a new tool to quickly inspect your apps to ensure that they full support Apple Silicon, as well as whether they support Apple's latest security features.
LIVE STARTUP DISK REPAIR

Techtool Pro 14 now supports "live" volume repair on your APFS startup volume. Perform volume repairs without restarting to a separate startup disk.
Fonctionnalités :
App Check
Live Startup Repair
Emergency Startup Disk
Advanced Memory Testing
Drive Testing and Repair
Protect Important Data
Mac and iOS Battery Testing
Diagnostics and Repair
Drive Testing and Repair
Smarter SMART Check
Memory Test
Volume Cloning
Volume and File Optimization
Disk Speed Test
Internet Speed Test
APFS Snapshot Recovery
Battery Check Test
Data Recovery
Processor Benchmarking
Network and Connectivity Testing
Network Monitoring and Connectivity
Protection Preferences