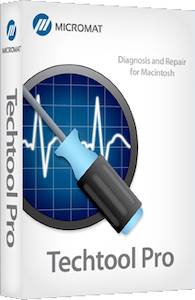 Produits
TechTool Pro 11 (électronique): 99,95 Euro

Configuration requise :
Mac OS X 10.10
macOS 10.14
2048MO RAM
OS X 10.10 up to macOS 10.14 'Mojave'
TechTool Pro 11
Hardware diagnostics, drive repair and daily maintenance for your Mac.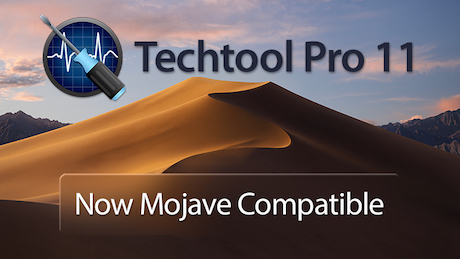 New In TechTool Pro 11

Mojave Compatibility
Techtool Pro 11 now takes advantage of the latest technologies introduced with the release of macOS 10.14, Mojave.

Security Features
macOS Mojave introduces a number of new security features to keep you safe. In order for applications like Techtool Pro to have access to perform tests and repairs of certain disks, they must be granted 'Full Disk Access.' Techtool Pro 11 now supports this security feature helping to keep your Mac secure.

Home Permissions Tool
If you are being asked to enter your password to move files in your home folder, if apps that store documents in your home folder quit unexpectedly, or your Mac continues to run slowly after extensive troubleshooting, you may have permissions problems in your home folder. Techtool Pro 11 introduces a new tool to reset the permissions in your home folder to restore home folder performance.

Updated Technologies
Previous versions of Techtool Pro had to make certain compromises to support earlier versions of macOS. With Techtool Pro 11, we have been able to take advantage of more advanced methods to perform many of the tasks that make up the functionality in Techtool Pro. We have updated many of the tests and tools to use these technologies to keep your Mac running smoothly.
Learn More
To learn more about TechTool Pro's other features,
click here
.
To order a new copy or upgrade from your current version,
click here
.
TechTool Pro is feature-packed with benefits that all Mac users need for comprehensive diagnostics, repair, and maintenance. To ensure your Mac stays optimized and trouble-free, make sure you use TechTool Pro regularly and keep your Mac running at peak performance.
System Requirements:
Intel-based Macs
OS X 10.10 up to macOS 10.14 'Mojave'
2 GB RAM or higher
Note: Data Recovery may not recover data in all circumstances. For best results, enable TechTool Protection before data loss.
In most cases, data recovery is not possible on Solid State Drives (SSDs).