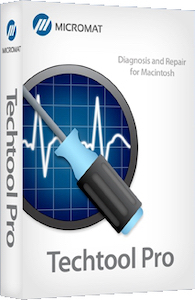 Produits
TechTool Pro 12 (électronique): 99,95 Euro

Configuration requise :
Mac OS X 10.10 / Mac OS X 10.11 / Mac OS X 10.12 / macOS 10.13 / macOS 10.14 / macOS 10.15
TechTool Pro 12
Hardware diagnostics, drive repair and daily maintenance for your Mac.
New In Techtool Pro 12
Catalina Compatibility
Techtool Pro 12 now works with macOS 10.15, Catalina, and takes advantage of the new technology made available through Apple's latest OS.
SMART Check supports USB drives
Techtool Pro 12 now includes an option to install a driver which provides access to the SMART Data available on USB drives, but previously inaccessible to the system.
More Customizable
Techtool Pro 12 introduces Check Computer Suites. Quickly switch between either built-in suites or suites that you make yourself. Want to start a group of tests, but don't have time for the Full Suite, choose either the Intermediate or Quick Suites, or build your own exactly the way you want it.
Internal Improvements
Techtool Pro 12 continues to improve internally. We continue to update many of the tests and tools to use newer technologies to keep your Mac running smoothly. You may experience some of these improvements in the Cloning tool, the SMART Check test and every test or tool that lists drives available for test or repair.
Learn More
To learn more about TechTool Pro's other features, read on
here
.