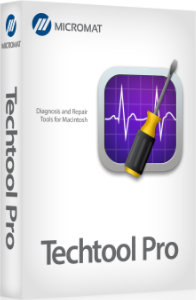 Produits
TechTool 16 (électronique): 149,99 Euro

Configuration requise :
Actualités

27/09/2022:

TechTool 16 nouvelle version 16.0.2

Application Systems annonce la disponibilité de la nouvelle version 16.0.2 de TechTool 16 pour le Mac. La nouvelle version peut être téléchargée sur:
https://www.application-systems.de/techtool

Les nouvelles fonctionnalités incluent:
• Fixed inconsistent Battery status errors for the Power tab in TechTool Monitor.
• Added iPhone 14 series support for the Battery Check test.
• Updated eDrive to qualify variations of APFS volumes.
• Added new Apple Silicon processor models for the Processor Check tool.
• Updated the Video Geometry tool to recognize Apple Studio displays.
• Added model identification strings for the Check Computer configuration panel.
• Added French, German, Italian, Japanese and Chinese (Simplified) localization to TechTool Monitor.
• Added updated TechTool Pro 16 PDF manuals for French, German and Japanese localization.
• Updated Bonjour manufacturer database for the Local Network tool.
• Updated Sparkle to version 2.2.2.
• Other minor fixes and enhancements.




05/09/2022:

TechTool 16 disponible

La version Française de TechTool 16 pour le Mac est disponible.

New features include:
TECHTOOL MONITOR
Techtool Pro 16 introduces a new way to keep track of drive health, battery condition, data usage, and more. Techtool Monitor operates in the background to monitor several of your Mac's critical functions, and alert you if problems arise.

NEW DATABASE REBUILD TOOL
Techtool Pro now includes a new tool to rebuild macOS databases. Rebuild Mail, Spotlight, Launch Service databases as well as others to troubleshoot issues that may affect your Mac.

INTERNAL IMPROVEMENTS
Techtool Pro 16 continues to receive improvements to support the latest Macs, along with improvements in the tests and tools you rely on.